SOUTH CAROLINA: Clemson Student Government Condemns Flag Displays
CLEMSON, S.C. — Clemson University's undergraduate Student Senate condemned a recent display of Confederate flags near the campus as a symbol of slavery, racism and white nationalism, continuing a feud between South Carolina college communities and rebel flag-waving activists.
The resolution passed Tuesday night after nearly an hour of debate. The vote count was not immediately available, but the decision was not unanimous.
The resolution is nonbinding and calls for no action.
″[T]he display of this flag is not illegal; however, it does promote racial tensions at a university which prides itself on its core values of Honesty, Integrity, and Respect," the resolution said.
In response, South Carolina Secessionist Party leader James Bessenger released a statement Wednesday, describing the students as "children commenting on subjects of which you have no foundational understanding."
He added, "Your generations [sic] most recent attempt at cultural genocide and historical revisionism isn't the first, and it won't be the last."
The Secessionist Party has claimed responsibility for the Aug. 28 display of flags near Clemson's campus, specifically along S.C. Highway 93 and a U.S. Highway 123 pedestrian bridge.
The group, which is not a recognized political party and endorses no candidates, has spent part of its three-year existence waving Confederate flags in public places. Sometimes they post on the internet when onlookers confront them or tear their flags down.
Public displays of the Confederate flag have come under increasing criticism in recent years. Dylann Roof, an avowed white supremacist who murdered nine people at Charleston's Emanuel AME Church in June 2015 included photos of himself posing with Confederate flags on a website that served as his manifesto.
South Carolina lawmakers voted to remove a Confederate battle flag from the Statehouse grounds in Columbia that year in the wake of the slayings.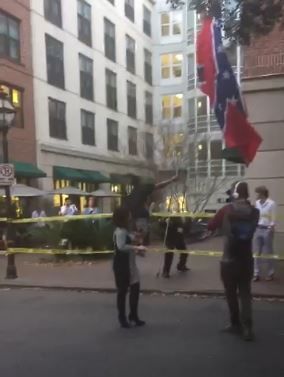 In the summer of 2017, Secessionist Party members trolled Glenn McConnell, then serving as president of the College of Charleston, by announcing they would conduct a Confederate "flagging" on campus in his honor.
McConnell, who once owned a Confederate memorabilia store and defended public monuments to Confederate soldiers, softened his view in later years and remained mostly quiet on the subject while serving as president.
After faculty and students called on him to denounce the flagging, McConnell wrote, "This is an 'honor' I do not welcome and one that I denounce wholeheartedly."
Shortly after Coastal Carolina University's baseball team won the College World Series in July 2016, the Secessionist Party complained about then-Gov. Nikki Haley flying the CCU flag atop the Statehouse dome.
A Confederate battle flag previously flew atop the dome from 1962 to 2000, and the group claimed that Haley was violating the Heritage Act that lawmakers had signed as a compromise to move the flag off of the Statehouse.