SOUTH CAROLINA: Affirmative Action Comes to Quiet End at College of Charleston
CHARLESTON: The College of Charleston stopped considering race as a factor in student admissions in the summer of 2016, quietly eliminating a tool for increasing diversity as black enrollment stagnated at the public college.
Meanwhile, a "Top 10 Percent" pilot program that college officials touted as a boon for diversity when it launched in 2015 has so far brought 138 white students and 80 students of color to the college of 10,000 undergrads. The program guaranteed admission to the top graduates of select Lowcountry public high schools.
The end of affirmative action came so quietly that even longtime advocates for minority students did not hear about it. NAACP Charleston Branch President Dot Scott said she had a working relationship with College of Charleston President Glenn McConnell during his time in office but never knew about the policy change until The Post and Courier brought it to light.
"What it looks like and what it is are two different things," Scott said of the school's assurances to activists.
Enrollment statistics do show signs of progress at the college. Hispanic enrollment has inched steadily upward since 1989. Overall, nonwhite enrollment has doubled in the past decade to about 20 percent, with a sharp uptick in 2010 when the college added a "Two or More Races" category to its annual reports.
African-Americans are the largest minority group in South Carolina, accounting for about 27 percent of the population.
The College of Charleston, which admits about two-thirds of its students from within the state, saw its black enrollment peak at about 8 percent in 2002. It has wavered since then. For proponents of diversity in higher education, which has been shown to benefit white and minority students alike, that's not nearly enough.
Looking at race
Race-conscious affirmative action — considering an applicant's race as one of the factors in the admissions process — has been practiced at many colleges across the country since 1978, when the U.S. Supreme Court upheld the practice (but not racial quotas) in its landmark ruling in Regents of the University of California v. Bakke.
Courts have upheld the practice, not as a form of reparations for past injustices, but as a remedy for present-day inequities in the quality of education for K-12 students in schools with high minority populations.
According to Jimmie Foster, vice president of enrollment planning, the College of Charleston was using affirmative action in admissions, albeit sparingly, when he came to work at the school in 2008. It was one of many factors that admissions officers considered along with high school grade point averages, essays, extracurricular activities, and scores on college entrance exams.
"Certainly the college was using race as a factor before my arrival here. It could have gone all the way back to 1978," Foster said.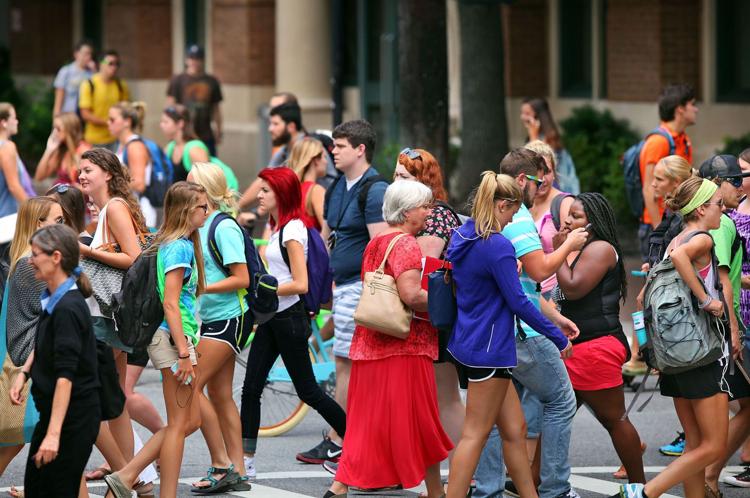 That changed in the summer of 2016, when the college's Admissions Committee began using first-generation college student status instead of race as a factor in admissions decisions. The fall freshman class of 2017 was the first to be selected without race-conscious affirmative action.
The Admissions Committee includes Foster as well as employees of the Office of Admissions.
"The Admissions Committee recognized that our student-of-color enrollments were increasing substantially while we were infrequently using race as a factor in the admissions process. So we decided at that point that that holistic review process and all the other many diversity initiatives that we were using were already having a strong impact," Foster said.
Foster said the college will continue recruiting minority students through high school outreach programs and other diversity initiatives — but affirmative action is off the table for now. He said the college "retains the right to still use race as a factor at any time."
"We've tried to build a pipeline a student at a time by building relationships, and I think it's been effective," Foster said.
Eboni Nelson, associate dean for academic affairs at the University of South Carolina School of Law, has studied the legal and practical implications of affirmative-action polices in higher education. She said outreach programs and race-blind admissions are often not enough to grow diversity.
"When race-conscious affirmative action is taken off the table, that usually ends with a less diverse campus," Nelson said.
Nelson predicted more schools may follow the same path as C of C, thanks in part to a string of reverse-discrimination lawsuits brought by rejected students and in part to a change of direction from the administration of President Donald Trump and Education Secretary Betsy DeVos, who erased Obama-era affirmative-action guidance on July 3 in favor of race-neutral policies.
Under a cloud
The end of affirmative action took place two years after McConnell's fraught arrival as president of the college. In July 2014, he was greeted with mass protests and student walkouts.
Students and professors took issue with McConnell's hiring after the Board of Trustees overrode a search committee's recommendations and protests from the Faculty Senate to select McConnell, a powerful state lawmaker who had no prior experience working in higher education.
Critics were also concerned about the college's public profile, particularly among African-American students. A Civil War re-enactor who owned a Confederate gift shop in North Charleston until 2009 and brokered a 2000 compromise to keep the Confederate flag on the Statehouse grounds, McConnell came home to his alma mater under a cloud of consternation.
Within a month after taking office, McConnell pledged to increase diversity at the college and floated the idea of launching a program modeled after the University of Texas's Top 10 Percent Rule.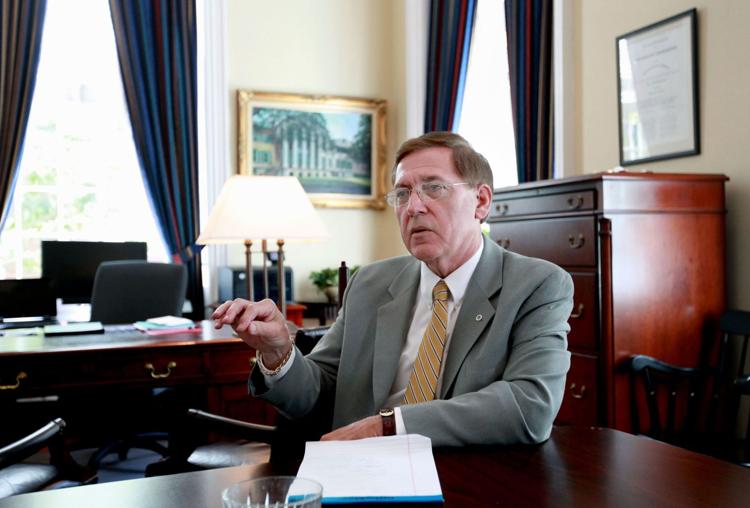 Under the College of Charleston's version of the policy, which was announced in 2015 and first took effect in 2016, students graduating in the top 10 percent of their high school class within seven Lowcountry counties are offered automatic admission, regardless of their scores on college entrance exams. If the program follows in Texas' footsteps, it could one day be expanded to every county in the state. Foster said the college is also considering adding a scholarship component to the program.
The program is still in its pilot phase, awaiting retention and graduation results from the first cohort of students in 2020. As of July 18, 221 students had been admitted via the program, of whom 138 were white, 80 were minorities, two did not report a race or ethnicity, and one was a nonresident alien, according to the college.
When asked if the end of affirmative action was a directive from McConnell, Foster said, "Absolutely not."
McConnell retired July 2 citing health issues and has declined all interview requests since late last year. The college is conducting a search for his replacement.
An ongoing challenge
At the time the College of Charleston decided to end affirmative action, it had the fifth-lowest black enrollment rate of any college in the state, public or private. It surpassed only Clemson University, Furman University, the Golf Academy of America in Myrtle Beach, and Bob Jones University, according to the U.S. Department of Education's College Scorecard.
And while the college has touted the growth of its overall minority enrollment, it still had the fourth-lowest nonwhite enrollment of any public institution of higher education in 2016, ahead of USC-Union, the Medical University of South Carolina, and Clemson. New College Scorecard data has not been released since 2016.
Meanwhile, the African-American students who attended the College of Charleston were showing lower graduation rates. A 2016 study by the nonprofit Education Trust found black students at C of C graduated at a lower rate (53.5 percent) than their white counterparts (67.1 percent), and that the gap had widened over the previous decade.
Foster said the college still has a ways to go both in recruiting and retaining minority students.
"We've got work to do," he said, "but we're very proud of the direction we're going."
Reach Paul Bowers at 843-937-5546. Follow him on Twitter @paul_bowers.